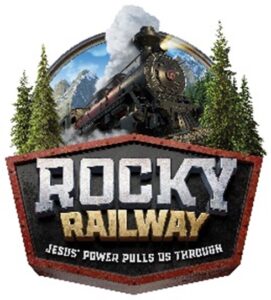 Run-Away Fun on the Rocky Railway!!
Excitement was in the air as we explored the Power of Jesus pulling us through on our Rocky Railway Adventure. The tent was up and the decorating began. With a lot of tall helpers, the tent was converted into a Railway Station in the Mountains. A large train was in the station waiting for the passengers; cushions on the ground gave the feeling of being in a train car.
Passengers were lined up waiting to board the train each evening. They were on a ride to learn to Trust Jesus. Each day, passengers saw and participated in a story that illustrated the day's Bible point. The kids then played games and did crafts and sang songs—all focused on learning about Jesus and God's love for us.
Opening night included a special treat! While going through registration and getting into our crews, we were entertained and amazed by the magic of The Wizard of the Wabash, Scott Starkey! Thank you so very much for joining us, Wizard!!